The man behind the camera: Marcel Milohnic.
He is the man for the "rough stuff" who looks for the best perspective on the construction sites. He is on the move with his hand on the trigger - the "play" button of his camera. When he skilfully sets the scene, he knows neither a height limit nor a creative limit.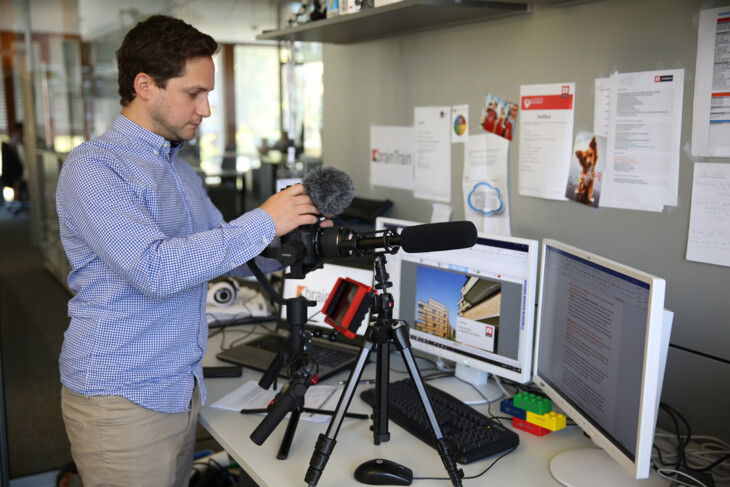 Proof of this is, among other things, his "Bond"-like deployment at the Wolfurt freight station, where he hovered 60 metres above the ground with a crane in order to take the best photos. But he is also the man for the "fine things" when he creates tailor-made films and BrainTrain content and accompanies workshops. One thing is clear: no two days are the same and every film is unique.
"And action" actually hits the nail on the head - that's why it's almost impossible to accommodate Marcel's versatile moving images in "just" one day. That becomes clear in our conversation: His phone rings and a further unusual spontaneous task just comes in: Greetings for the retirement of a Viennese colleague - a short note and on it goes.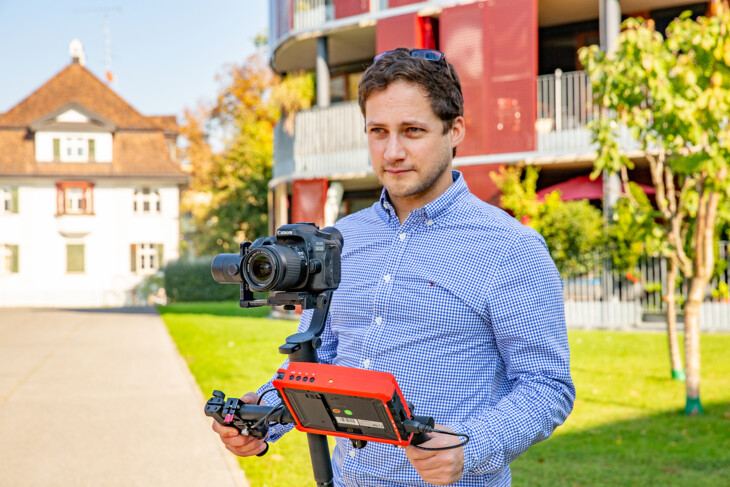 Good equipment is half the rent
From the perfect sound to the Steadycam that gets things moving (and which by the way is Marcel's favourite piece in his personal collection) - off to his next creative job! Apart from good equipment, Marcel's "must-haves" include brains (for the process) and empathy (for the other person). Another "must" for Marcel: the acquisition of new camera techniques and technical gimmicks. In addition, he likes to meticulously scan the YouTube channels in search of new filming techniques and applications.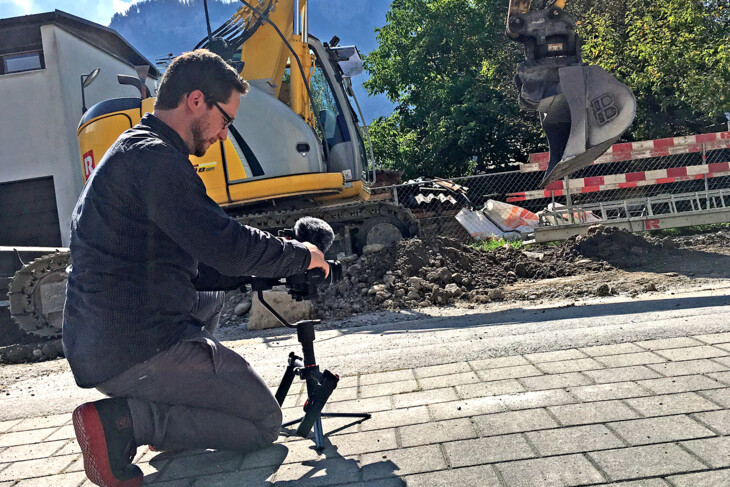 Fearless
"A man must do what a man must do" - especially when it comes to the best picture. Because this is not really an ordinary office job. When it comes to outdoor work, a "panoramic view" is a must, because heavy equipment can also cross his path here.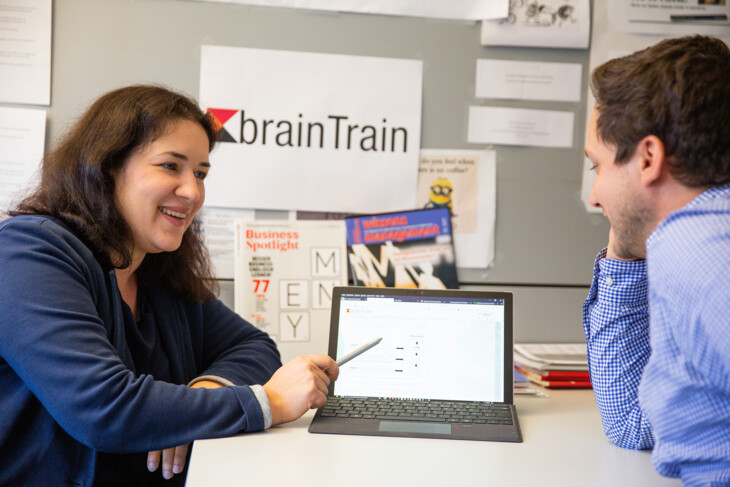 The team with the special know-how
It is Manuela and Marcel who are behind the contents of the knowledge platform - in the front row, so to speak. Their mission: The sustainable transfer of knowledge, served in freely selectable e-learning "learning canapés". The offer includes comprehensible tutorials such as the Obelisk application, MyNet or IMS. Or also various application tools and (digital) training courses. This ensures freedom for the employees, because learning is independent of time and place.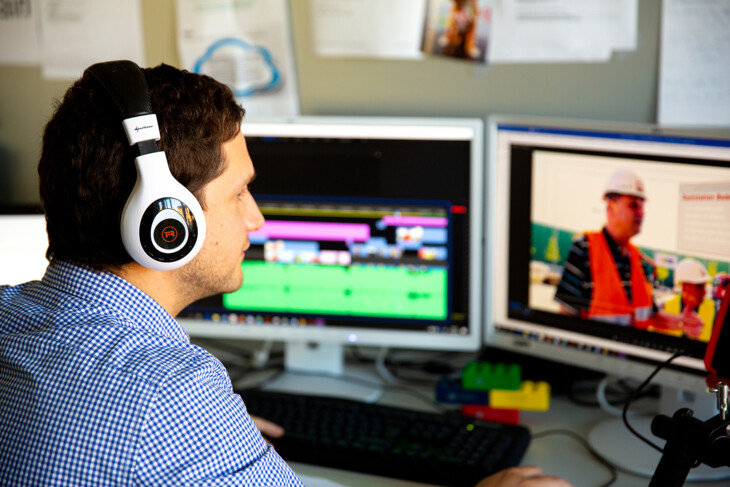 Lord of the cuts
Now comes the most exciting part - the cut. The moving images tell a story thanks to a tailor-made script. It all depends on tact and sensitivity when combining image, sound and music. He finds it exciting to work together with external partners to produce BrainTrain content in multiple languages and expand and adapt it.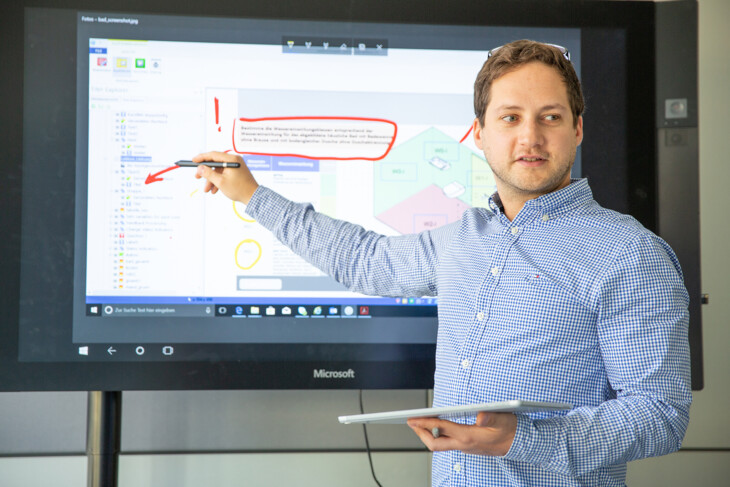 An idea becomes reality
From the idea to the implementation - there is a lot to do until then - the ideas are just flying around brainstorming with his internal customers, in order to finally make a precision landing. Simple and pragmatic solutions are often required, says Marcel. That makes the job, which he rather sees as a vocation, also so varied and exciting.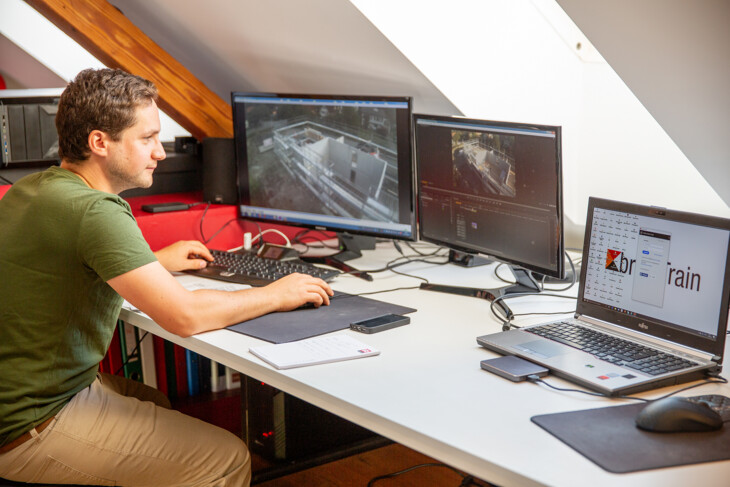 Work of art
Filming and packaging content that leaves a lasting impression is high art. Having studied theatre, film and media science, Marcel is one of those artists who celebrate their very own rhythm of day and night. Many creative ideas are thus brought to life late at night in his home Office. This also includes tinkering with new technical refinements. The boundaries between work and hobby are often blurred, because Marcel's job - filming and everything that happens around it - is also his hobby.
Marcel Milohnic
Has been at Rhomberg for
...2 years. About a year of that I was working as an intern.
I particularly like ...
... that I can work flexibly and freely. And the versatility of my work - also from a human point of view. I have everyone in front of my lens - from management to construction worker. That gives me an exciting all-round view.
In my spare time you can find me ...
...mainly in the woods. On the one hand because I have the best ideas in nature, and on the other hand because my dog "Samy" loves it. As an "icing on the cake" I can go treasure hunting with my metal detector.