Contact us
If you have any questions, we're here to help!
If you have any questions, we're here to help!
Are you interested in one of our various entry and development opportunities? Do you have questions about working for the Rhomberg Group?
If so, please contact us: we look forward to hearing from you.
There's nothing quite like a personal conversation…
Get to know us – face-to-face. Familiarise yourself with entry-level opportunities at Rhomberg in direct, face-to-face discussions with us at job fairs. We look forward to seeing you at our stand.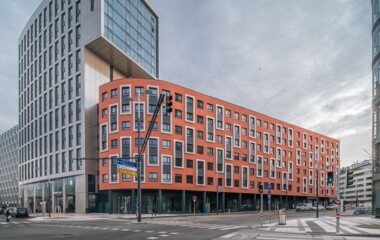 BIT-Bau ´19
Job fair for school and university students as well as graduates interested in the construction industry in Austria.
Read more
FAQs
What is the best way to apply – online, by email or by post?
We look forward to receiving your application, whichever method you use. Ideally, we recommend that you apply online using our platform, as we will receive your data more quickly. This ensures that we can check your application as quickly as possible and provide you with prompt feedback.
Can I apply for more than one job at once?
Of course. You can leave us a note in your application with details of the jobs you are interested in.
Is it possible to pause the application process and resume it another day?
We are constantly working on the optimisation of our system. Unfortunately this is not currently possible for technical reasons.
Can I correct my details if I have submitted an incorrect online application?
How long will my data be stored?
We adhere to the applicable data protection regulations.
Can I send an unsolicited application?
Yes, we appreciate your interest and look forward to receiving your application, even if we do not have a suitable position available for you at this time.
Is there an application deadline?
No, as long as the vacancies are published on our homepage you are welcome to submit an application. However, please submit your application in good time to be considered in the selection process.
I cannot find the answer to my question in the FAQs!