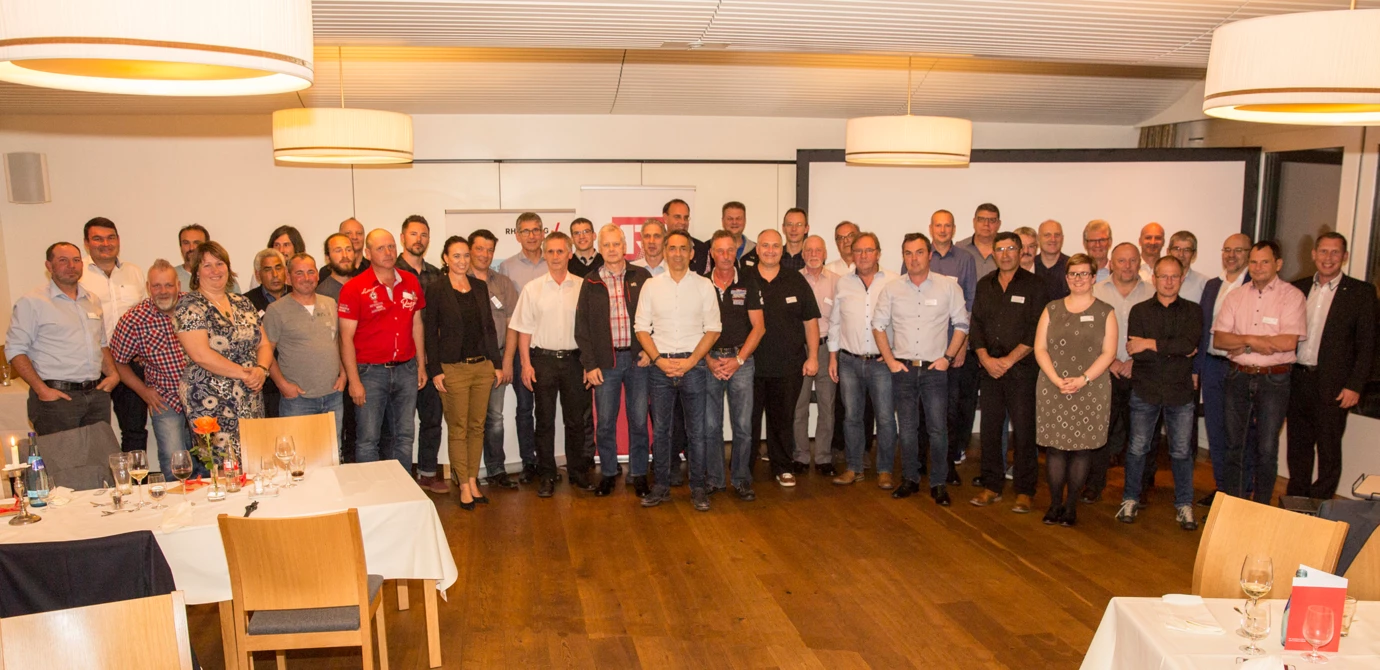 The longest-serving member of the Rhomberg Group has now been with us 45 years: 38 long-serving members of staff celebrate their anniversary.
Bregenz, 23 October 2017. That's loyalty. When he started out at the Rhomberg Group in 1972, many of his colleagues who are now celebrating ten years of service at the Bregenz-based family enterprise had not – or had only just – been born. Peter Greußing, now Managing Director of Rhomberg Bau Holding and a member of the Executive Board, was therefore particularly grateful for this year's jubilee award from the construction and railway technology company. Greußing's fellow director Martin Summer was also brought in front of the curtain for "20 years at Rhomberg". In total, 38 employees and 660 years of company service were gathered at the Hotel Schwärzler for a celebration.
The long-serving colleagues work for the Rhomberg Bau Group or for one of the companies in the Rhomberg Sersa Rail Group. Sixteen of them have been doing so for 10 years, and 9 are looking back on 15 years of service at Rhomberg. Two employees have been on board for 20 years, and six have been working for 25 years in Bregenz, Dornbirn, Salzburg, St. Gallen or one of the other Rhomberg locations around the world. Two have been part of the Rhomberg family for 30 years, and another two for 35 years. The longest-serving member with 45 years of company affiliation is Peter Greußing. "Peter has spent his entire working life with us," said Hubert Rhomberg, Managing Director of the Rhomberg Group, in his honorary speech. "Immediately after graduation, he joined us as a technician and has consistently worked his way up, remaining to this day a member of our sworn community."
Rhomberg, together with Ernst Thurnher, also Managing Director of the Rhomberg Group, had a few words of praise and a couple of amusing anecdotes for all the colleagues who received congratulations and thanks from the company that evening. And so, at the end of the evening, everyone present agreed with Russian writer Maxim Gorki, whom Rhomberg had quoted in his greeting: "If work is a pleasure, life becomes a joy."

Questions?
Get in touch with us!
Contact now
Contact person for press enquiries